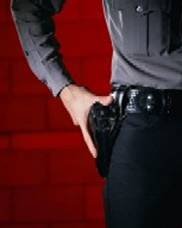 Armed Security Guards - Unarmed Guard Service
Need to hire Armed Security Guards or uniformed guards on a temporary or permanent basis. Our armed guards and unarmed security officers employed at our security guard company are fully licensed and well trained for all armed jobs, sites and posts. Our security officers have the proper security guard training of firearms use should it be needed at their post. All staff of Armed Security Guards has a professional appearance, even temperament and is trained in the proper use of force. Our officers have a general understanding of the post duties and conditions involving the property or person which is to be protected. Armed security officers maybe uniformed or plain clothes guards and usually earn more money than unarmed security officers since they have much more sensitive job responsibilities in the scope of their work.

Our Security guard agency advises clients to use Armed guards or armed security services from our company in cases of high risk such as; death threats, protection of jewelry, protection of money, protection of assets, close protection, dignitary protection, protection of art work, executive protection, VIP protection, personal protection, special event security, tactical protection or other cases which might attract crime such as vandalism, assault or robbery.

SECURITY GUARD COMPANY
Our Security Guard Company generally does not recommend the use of Armed Security Officers for retail stores, commercial store, shopping malls, commercial store, and restaurant, bar, lounge, nightclubs, government building establishments and similar public areas. Our security agency is well trusted and unmatched by other local security guard agencies and contractors. Our agency believes that if a criminal intends to rob a commercial property, shopping mall or retail store, there usually is no way to tell who the person might be, and therefore, the security officer holding the gun will become the criminals first target. Therefore, it is our company's firm opinion, that an unarmed security officer will deter retail theft, vandalism or other crimes just as good. The unarmed security guard from our private security agency will deter crime without bringing any additional liability or violence to your property, staff and clients should there be a crime such as assault or robbery.

ARMED GUARD SERVICES
All Armed Guard Services, Unarmed Guards, bodyguards and Armed Security Guards are fully licensed and insured to provide unarmed security, bodyguarding and armed security services in Florida. No job is too big or too small for our firm.
From our experience, an armed guard hired from our security company is most suitable in a site or post which is non-public. Please be sure to use armed guards and armed security service wisely as you may be held liable if a person is killed or injured at your commercial property, retail store or establishment. Contact our security company for additional information on armed guard service, armed security officer and armed security services.  We may provide armed security or unarmed security officers to secure, protect or patrol a home, hotel, residential community, apartment complex, building, port, parking lot, bank, warehouse, shopping center, mall, corporate office, condominium, gated communities, gate house, special event, construction site, private property or other facility. From airport security service to protecting business complexes our agency is the trusted armed security service provider. Armed security is also used for VIP protection, executive protection and body guard services. Hire armed body guards or armed security officers today.


Hire our private security company in Miami Dade County, Broward County, Palm Beach County, Aventura , Bal Harbour , Bal Harbor, Boca Raton , Boynton Beach , Coconut Creek , Coconut Grove , Cooper city , Coral Gables , Coral Springs , Cutler Bay, Cutler Ridge , Dania, Davie , Deerfield Beach , Doral, Fort Lauderdale , Fort Myers , Fort Pierce , Hallandale Beach , Hialeah, Hialeah Gardens, Hollywood Florida, Homestead , Kendall , Key Biscayne , Key Largo , Key West , Lake Worth , Lauderdale-by-the-Sea , Lauderhill , LeHigh Acres, Margate , Medley, Miami Beach , Miami Gardens, Miami Lakes , Miami Springs , Miramar , North Bay Village , Parkland Fl, North Miami Beach , North Palm Beach , Opa Locka , South Florida , West Palm Beach , Pembroke Pines , Perrine , Pinecrest, Port Saint Lucie, South Miami , Miami Design District, Wynwood, South Beach , Sunny Isles Beach , Surfside , Weston, Wilton Manors, Tamarac, Florida City. Call today and find Florida Security Services in your state or local area.

Our security company may also assist with armed or unarmed guard services with our affiliate security companies in Puerto Rico, N.Y - New York, L.A - Los Angeles, California, Honduras, Guatemala, Costa Rica, Dominica, St. John, St. Thomas, St. Croix, Antigua, Anguilla, Aruba, Jamaica, Nicaragua, Venezuela, Panama, Belize and Mexico D.F.  Call our security consultants or officers now.

OnlinePI.com and our Security Agency provides Florida armed security services, Florida armed body guards, Miami Body guards, armed security officers and private investigation services in Pompano ,Lighthouse point, Cape Coral, Carol City, Clearwater, Clermont, Clewiston, Delray Beach, Goulds, Green acres Hobe Sound Islamorada Jacksonville Florida, Jupiter Kissimmee Lakeland Lantana Lauderdale Lakes, Leisure City, Marathon Key Marco Island, Naples North Fort Myers. Or hire armed guard in Palm Beach Gardens, North Lauderdale Sarasota Oakland Park Orlando Palm Bay Tallahassee Pompano Beach Sunrise, Plantation Southwest Ranches, Parkland and Tampa Fl.

Other Cities, States & counties our agencies patrol officers, armed guards and unarmed security officers provide private security services , armed bodyguard , executive protection, close protection and personal protection Florida, Miami Dade County, Broward County, Palm Beach County, Fort Lauderdale , West Palm Beach , NJ, New Jersey, New Mexico, New York, NY, NYC, New York City, Chicago, Indiana, Indianapolis, Iowa, Kansas, Kentucky, Louisiana, Maine, Maryland, Massachusetts, NC, North Carolina, OH, OK, Oklahoma, Oregon, Pennsylvania, Pittsburgh, Rhode Island, Arizona, Phoenix, Arkansas, California, LA, Los Angeles, San Diego, San Francisco, Colorado, Connecticut , Delaware, Washington DC, Florida, Daytona Beach, Jacksonville, Miami, Orlando, Tampa, Georgia , Idaho, Illinois, Boston, Michigan, Detroit, Minnesota, Missouri, Nebraska, NV, Nevada, NH, New Hampshire, South Carolina, Tennessee, Texas, Austin, Dallas, Houston, San Antonio, Utah, Vermont, Virginia, Washington, Wisconsin , US United States and nationwide. Call our Florida Security Guard Company for information on patrol - static, temporary or permanent contract armed security services.
Contact our security & detective agency with questions on how to hire a private investigator or hire a security guard at Online PI.
Call Us Now 24 Hrs. for Assistance!
1(800) 743-2313
NATIONWIDE SECURITY SERVICES , BODY GUARD SERVICES & PRIVATE DETECTIVE SERVICES!
We have National and Worldwide Affiliate Licensed Security Guards , Body Guards and Private Investigators to service your area.