CONDOMINIUM SECURITY GUARDS

Condominium Security Guards from our Uniformed Guard division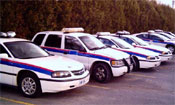 Need Condominium Security Services? Our Condominium Security Guards and patrol officers perform Condominium Security Services, Condominium Security Systems and patrol services for a condo, apartment building, residential community and commercial property.
Our agency may protect apartment building and condominium from Burglary & Vandalism is crucial. Today, anyone can be a victim of home burglary or vandalism. If you are a home owner, property owner or a property manager of a condominium, hi-rise condo or an apartment building, then it should be imperative to consider the safety, security and protection of your tenants and apartment or condominium property.   Today most home burglaries and residential community burglaries occur during the day since the home owners are away and are occupied at work or running personal errands.  It is said, that, apartment burglaries and home burglaries occurs approximately every seventeen seconds in the United States. Our security guard services, guard officers or protection services can assist in preventing your apartment or home from being another security statistic. Our Condo security service agency provides armed security guard services and unarmed security officers during the most appropriate times or during a 24 hour period to secure and patrol your residence or your community. Our protection services agency provides professional security guard services and guard officers to patrol the residential community or condo and thus deter burglary and vandalism from occurring. If you own or manage a residential community or condos, consider security guard, patrol officer services and officer guard security services today before it is too late. Your protection and safety is imperative. Your family and tenants should receive the protection services or guard services and piece of mind they deserve to have.
CONDOMINIUM SECURITY SERVICES
Our Security & Private Detective Agency offers every client the utmost in residential and commercial security & surveillance camera systems. An unmatched level of profession protection and experience are just some of the many attributes that sets our company apart from other security companies. Our security agency can provide numerous residential security solutions and community security services including: guard officers, patrol security, unarmed security guards, armed security guards, uniformed security guards, officer guards, patrol services, patrol services, gate house security, vehicle patrol security, security cameras, video surveillance system, CCTV systems, armed guards, unarmed guards, static security, concierge security services, exterior security services, lobby security guards, plain clothes security officers and other protective solutions at affordable rates. When it comes to home security or community security, our security guard company is second to none when it comes to protection services and security services.
It is known that home burglars and apartment burglars work mostly during the day since apartment residences and condominiums are more likely to be vacant and the apartment owners out to work. Usually most burglars and vandals will be likely to explore an apartment complex or a community while looking for the right residence or apartment unit to burglarize and the right opportunity. Our security company and guard services provides professional security guards and security officers 24 hours a day and 365 days a year in efforts to deter burglars and vandals from breaking into your apartment or home. Our security officer services can provide professional, safe environment for your residents and tenants. Our security services can be contracted for short term security services or long term security services. (Temporary or permanent security available). Our security agency provides a range of personalized protection services for apartment security and community security services. When you need peace of mind and consider protecting your apartment building or community, our security company and security officers can deter theft or vandalism by implementing aggressive security services and security measures with our outstanding security guard services and unarmed officer guards. When it comes to protecting apartment buildings, our security services are the best of their kind. 
We protect your store or shopping center so you can do business…Let Retail Loss Prevention Security Service be our business!
Among other cities, our Condo Guard Services and Condominium security officers perform CCTV Surveillance Miami Florida and in Dade County, Broward ,  Aventura , Bal Harbour , Bal Harbor, Boca Raton , Boynton Beach , Coconut Creek , Coconut Grove , Cooper city , Coral Gables , palmetto bay, Coral Springs , Cutler Bay, Cutler Ridge , Dania, Davie , Deerfield Beach , Doral, Fort Lauderdale , Fort Myers , Fort Pierce , Hallandale Beach , Hialeah, Hialeah Gardens, Hollywood Florida, Homestead , Kendall , Key Biscayne , Key Largo , Key West , Lake Worth , Lauderdale-by-the-Sea , Lauderhill , LeHigh Acres, Margate , Medley, Miami Beach , Miami Gardens, Miami Lakes , Miramar , North Bay Village , Parkland, OpaLocka , South Florida , West Palm Beach , Pembroke Pines , Perrine , Pinecrest, Port Saint Lucie, Design District, Wynwood, South Beach , Sunny Isles Beach , Surfside , Weston, Wilton Manors, Tamarac, Florida City.
Call our condominium security officers today and hire Residential Security, Apartment Building Surveillance Systems, Building CCTV Security and more in Pompano, Lighthouse point, Cape Coral, Carol City, Clearwater, Clermont, Clewiston, Delray Beach, Green acres Hobe Sound Islamorada Jacksonville , Jupiter Kissimmee Lakeland Lantana Lauderdale Lakes Leisure City Marathon Key Marco Island Naples North Fort Myers, Palm Beach Gardens, North Lauderdale Sarasota Oakland Park Orlando Palm Bay Tallahassee Pompano Beach Sunrise, Plantation Southwest Ranches, Parkland and Tampa Fl.
Other States, Cities & counties our associate Condominium Security companies offer residential  Access Control and Condominium Access Control Security Miami Dade County, Broward County, Palm Beach County, Fort Lauderdale , West Palm Beach , NJ, New Jersey, New Mexico, New York, NY, NYC, New York City, Chicago, Indiana, Indianapolis, Iowa, Kansas, Kentucky, Louisiana, Maine, Maryland, Massachusetts, NC, North Carolina, OH, OK, Oklahoma, Oregon, San Francisco, Colorado, Connecticut , Delaware, Washington DC, Florida, Daytona Beach, Pennsylvania, Pittsburgh, Rhode Island, Arizona, Phoenix, Arkansas, California, LA, Los Angeles, San Diego, Jacksonville, Miami, Orlando, Tampa, Georgia , Idaho, Illinois, Boston, Michigan, Detroit, Minnesota, Missouri, Nebraska, NV, Nevada, NH, New Hampshire, South Carolina, Tennessee, Texas, Austin, Dallas, Houston, San Antonio, Utah, Vermont, Virginia, Washington, Wisconsin , US United States and nationwide.
Our condominium security staff and CCTV systems are your solution against theft and crime. The private uniformed officer will protect and secure your condo property, lobby, perimeter, parking lot or premises at all times. All our staff of condo security guard officer is fully trained to your site specifications and for all related jobs.
CONDO SECURITY SERVICES:
Uniformed Condominium Officers
Plain Clothes Officers
Condo Patrol Service
Concierge Security Service
Condominium Security Cameras
CCTV Operators
Condominium Security Systems
Condominium Video Surveillance
Contrate guardias de seguridad uniformados, oficiales de seguridad para condominium de nuestra agencia de seguridad. Llámanos hoy para servicio de seguridad, patrullaje, video vigilancia en casa y servicios de protección.
We are your residential community and commercial security provider!
Call our agency for information on our temporary or contract guard services such as; we can offer a fast quote on CCTV surveillance systems or conduct a free on-site Security Service Consultation. Protect your Condominium or home today with uniformed guards or and Access Control services with the leading protection contractors unmatched by other local companies.
Contact our company for CONDOMINIUM SECURITY OFFICERS, CONDOMINIUM SECURITY GUARDS, APARTMENT BUILDING SECURITY and CONDOMINIUM SECURITY CAMERA SYSTEMS.
Contact our security & detective agency with questions on how to hire a private investigator or hire a security guard at Online PI.
Call Us Now 24 Hrs. for Assistance!
1(800) 743-2313
NATIONWIDE SECURITY SERVICES , BODY GUARD SERVICES & PRIVATE DETECTIVE SERVICES!
We have National and Worldwide Affiliate Licensed Security Guards , Body Guards and Private Investigators to service your area.