CORPORATE SECURITY - EXECUTIVE SECURITY
Corporate security services from Our Corporate Security Division and Body Guard Division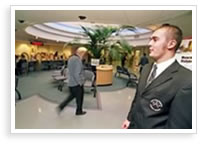 Corporate Security Guards, Corporate Security officers is also known as Executive Security,  Executive Protection or Business Security Services. Our Security Company specializes in office building security, executive security, retail security, executive protection services, business security and other corporate security services unmatched by other executive protection companies.
Office buildings and businesses today are prime targets for vandalism and theft and break-ins without properly implemented business security services. Other businesses are exposed to computer computer hacking and equipment theft. It is definitely known that vandalism is always a problem that must be dealt with. Our Security Guard Agency provides protection services with our well experienced and professional and licensed Corporate Security Officers and security guards. Our Security Services provide Corporate Security Services for many corporations and executives.
Our Corporate Security Services will provide the peace of mind our clients deserve to peacefully run a successful business day in and day out. Our security agency and guard services will make sure that your property or office building security is not an added concern to your daily business operations. Our security guard services will implement a level of security in efforts for our client and their employees and possessions are well maintained and always secured from potential break-ins, burglary, theft, vandalism and many other security related concerns. The primary objective of our business is to maintain a secure environment at our clients work or business environment with our professional security guard services, corporate security officers and VIP protection.
CORPORATE PROTECTION AND SECURITY SERVICE :
Uniformed Corporate Officers
Plain Clothes Officers
Undercover Corporate Security
Corporate Investigation Services
Corporate CCTV Surveillance
Loss Prevention Service
Business Security Services
Alarm Response Service
Mobile Patrol Service
Corporate Security Systems
Integrity Shoppers
Mystery Shopper
Corporate Bodyguards
…contact the leading executive protection agency today.
BUSINESS SECURITY SERVICES
Today office buildings need professional security guard services. Our security guard agency provides the best office building security services available for your business. Our security agency provides armed security and unarmed security guards and security officers, concierge security officers, patrol vehicle security, motor patrol vehicles, and gatehouse security guards for your property or office. Our Florida security agency and security services have extensive experience and job training. Our firm is prepared to keep your office and office building safe from vandalism, burglary, theft and other security service concerns. All jobs are handled in a discreet manner.
For more information on our security guard services or security officers, CCTV video surveillance or access control systems, call our security sales department today. Our business performs jobs in Miami, Fort Lauderdale, Palm Beach, Boca Raton, Miami Beach, Broward County, Ft. Pierce, Martin County, South Florida and nationwide through our affiliate security guard companies.
Your security guard service and corporate protection is our main business!
Call Us Now 24 Hrs. for Assistance!
1(800) 743-2313
NATIONWIDE SECURITY SERVICES , BODY GUARD SERVICES & PRIVATE DETECTIVE SERVICES!
We have National and Worldwide Affiliate Licensed Security Guards , Body Guards and Private Investigators to service your area.