PERSONAL INJURY INVESTIGATIONS
Personal injury occurs when a person suffers some type of physical injury. The injury may be physical injury or psychological injury, due to an auto accident, slip and fall, assault claims, dog bite, road traffic accident, workplace injury highway tripping accidents or other form of accident. Our personal injury detectives can investigate any type of personal injury claims. Our Florida Private Detective agency has insurance defense experts to defend your claim against fraud.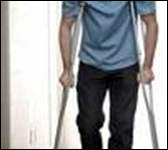 Do you have a need to investigate a work comp claimant, personal injury claimant, auto liability or insurance claim? Have a need for investigation on a worker's compensation case, personal injury, train, bus or automobile accident, slip and fall or other fraudulent claim investigation. Our Florida Insurance investigators perform personal injury investigations, claims investigations and insurance defense services that will assist insurance defense attorneys, claims risk managers, claims adjusters and law firms to identify and investigate fraud with our personal injury and claims detective service.  We have professional licensed Private Investigators that work closely with your claim and your attorney, adjuster, claims representative or legal representative in efforts to obtain the evidence required.

INSURANCE CLAIMS INVESTIGATIONS
Our Florida private investigation agency and private investigators are known for delivering investigative solutions to insurance companies, insurance carriers, attorneys and claims managers. Our private investigative services include casualty / injury surveillance, activity checks, written statements, recorded statements, background checks and other SIU work to better service adjusters and Florida defense attorneys. Through due diligence, surveillance, record searches, neighborhood investigations and other PI techniques, our Florida detective agency will discreetly investigate fraud claims to verify the information and facts thus allowing you to make an educated claims decision. We are PI experts in all your insurance claims investigation, workers' comp and due diligence needs.

We are not like most insurance private investigative agencies that staff detectives which promise the world and never deliver for your case. If you are an insurance company, an adjuster, insurance defense lawyer or another Florida private detective agency that needs to hire a Florida private investigator that is well trusted in the insurance industry…call the insurance investigators at our Florida detective agency that have a track record for achieving positive results on our personal injury and workers compensation or fraud claims assignments. We are your Florida Insurance investigation Agency and insurance defense PI partner investigating your insurance claims every step of the way.

Don't hire Florida private investigators with limited experience to investigate a claim, investigate fraud, obtain video surveillance, locate a witness, investigate bodily injury claim, investigate auto liability, conduct an activity check or conduct a recorded statement or written statement on your claimant. Contact our office now for information on insurance claims investigation or other private detective needs.
PERSONAL INJURY INVESTIGATORS
Claims Investigations private Investigators assist with:
•         Locating Witnesses and Claimants
•         Obtain Recorded Statements
•         Accident Scene Investigations
•         Auto Liability Investigations
•         Bodily Injury Claims
•         Obtain Written Statements
•         Workers' Compensation Investigations
•         Attorney Litigation Support
•         Alive & Well Checks
•         AOE-COE
•         Property Claims
•         Life & Health Claims Investigation
•         Claimant Employment Verification
•         Disability Investigations
•         Slip & Fall Investigations
•         Video Surveillance Services
•         Subrogation
And many other Personal Injury and Insurance Claims Investigation Services
Video Surveillance Services
Our casualty video surveillance services are used for injury claims such as:
•         Bodily Injury Claims
•         Workers' Compensation Claims
•         Disability Claims
•         Auto Accident Liability
•         Attorney Litigation Support
•         Sub-Rosa Investigations


OnlinePI.com and our Florida fraud detectives will effectively assist in defending you in any types of personal injury cases, slip and fall injuries, physical injuries, car crash accidents, nursing home abuse, nursing home neglect, dog bite injuries, medical malpractice, insurance disputes, defective products, motorcycle accident, lawsuits or accidents claims. Our personal injury investigation will uncover and reveal the evidence and solid facts in efforts to get a client or a defense attorney the results needed to defend the claim or case. We provide claims video surveillance, auto liability and personal injury surveillance, attorney litigation support and other SIU investigation work like witness statements, locate witnesses, locate accident witness, locate claims witness, recorded statements, activity checks, alive and well checks, widow checks and many types of insurance fraud claims investigations. We are the agency to call for workers compensation cases, personal injury, slip and falls, auto accidents, insurance defense services, insurance defense support or attorney litigation support.

Worker's compensation cases and worker's compensation claims investigations is what our firm does best. We staff licensed undercover agents, claims specialists, SIU investigators and video surveillance experts that will investigate personal injury or investigate workers compensation fraud or any other claim or injuries.  Our private investigators will obtain the necessary video surveillance evidence, documentation or proof to make sure you win your case worker's compensation cases. Our private detectives will locate claimants, locate claim witnesses, obtain recorded statements, investigate claimants, investigate claimant injuries and investigate injury claims to make sure you or your insurance company are not a victim of fraudulent activity. Our expert licensed PI's can assist insurance defense attorneys, third party administrators, risk managers, claims adjusters, managers, employers, legal team,  or insurance companies by conducting covert video surveillance on the claimant or video surveillance on the injured person to verify if the claim is legitimate or fraudulent. Our agents will document the claimants' level of activity, physical limitations; verify employment level, lifestyle and other facts needed for your case. Our private eyes are well versed with court room procedures and may also testify in a court of law regarding our investigative findings or testimony.

Did you know that fraud costs insurance companies and other organizations thousands of dollars every year due to claim abuse and fraud? Accident injuries, physical injuries, Accident claims, work comp - workers compensation and personal injury investigation is what our PI's and undercover staff does best.

Our detective agency and private investigators are well trained licensed professionals and video surveillance experts that can help you in gathering the facts for your case. Our personal injury private investigators work discreetly in an efficient manner.  In addition, our detectives work together with all the parties involved to target the problem and seek a fast solution in your case.
If hiring an investigations company to handle your case, investigate a personal injury claim or investigate personal injury…cheaper is not always better. You will get what you pay for. Call the trusted South Florida private investigators leading the trail for other south Florida Investigators to follow.

Our webpage will provide information on personal injury investigation services at cheap prices. Call our Auto liability and personal injury fraud investigators and PI consultants now.
Among other cities, our security and detective company – Online PI provides security services in Miami Dade County, Broward County, Palm Beach County, Aventura , Bal Harbour , Bal Harbor, Boca Raton , Boynton Beach , Coconut Creek , Coconut Grove , Cooper city , Coral Gables , Coral Springs , Cutler Bay, Cutler Ridge , Dania, Davie , Deerfield Beach , Doral, Fort Lauderdale , Fort Myers , Fort Pierce , Hallandale Beach , Hialeah, Hialeah Gardens, Hollywood Florida, Homestead , Kendall , Key Biscayne , Key Largo , Key West , Lake Worth , Lauderdale-by-the-Sea , Lauderhill , LeHigh Acres, Margate , Medley, Miami Beach , Miami Gardens, Miami Lakes , Miami Springs , Miramar , North Bay Village , Parkland Fl, North Miami Beach , North Palm Beach , Opa Locka , South Florida , West Palm Beach , Pembroke Pines , Perrine , Pinecrest, Port Saint Lucie, South Miami , Miami Design District, Wynwood, South Beach , Sunny Isles Beach , Surfside , Weston, Wilton Manors, Tamarac, Florida City. Call today and find Florida Investigators or detectives to search for Background History, criminal histories, and Prior histories and other Due Diligence Investigation Services or free record searches in your state or local area.

OnlinePI.com and our Miami Detective Agency also provides Florida Criminal Records, backgrounds, back ground investigations, private detectives and private investigations service in Pompano ,Lighthouse point, Cape Coral, Carol City, Clearwater, Clermont, Clewiston, Delray Beach, Goulds, Green acres Hobe Sound Islamorada Jacksonville Florida Jupiter Kissimmee Lakeland Lantana Lauderdale Lakes Leisure City Marathon Key Marco Island Naples North Fort Myers. Hire Investigator or security guard services in Palm Beach Gardens, North Lauderdale Sarasota Oakland Park Orlando Palm Bay Tallahassee Pompano Beach Sunrise, Plantation Southwest Ranches, Parkland and Tampa Fl.

Contract private investigators online. Our detective and investigative company also offers private investigations, Real Time Vehicle Tracking and due diligence services through our affiliate private detective companies in Puerto Rico, New York, Los Angeles, California, Dominica, St. John, St. Thomas, St. Croix, Antigua, Anguilla, Aruba, Jamaica, Nicaragua, Honduras, Guatemala, Costa Rica, Venezuela, Panama, Belize and Mexico D.F

Other Cities, States & counties our investigators and Detectives provide Private Investigation Services – investigate physical injuries, insurance defense investigations, personal injury investigators, Background Checks Florida, Miami Dade County, Broward County, Palm Beach County, Fort Lauderdale , West Palm Beach , NJ, New Jersey, New Mexico, New York, NY, NYC, New York City, Chicago, Indiana, Indianapolis, Iowa, Kansas, Kentucky, Louisiana, Maine, Maryland, Massachusetts, NC, North Carolina, OH, OK, Oklahoma, Oregon, Pennsylvania, Pittsburgh, Rhode Island, Arizona, Phoenix, Arkansas, California, LA, Los Angeles, San Diego, San Francisco, Colorado, Connecticut , Delaware, Washington DC, Florida, Daytona Beach, Jacksonville, Miami, Orlando, Tampa, Georgia , Idaho, Illinois, Boston, Michigan, Detroit, Minnesota, Missouri, Nebraska, NV, Nevada, NH, New Hampshire, South Carolina, Tennessee, Texas, Austin, Dallas, Houston, San Antonio, Utah, Vermont, Virginia, Washington, Wisconsin , US United States and nationwide. Review our website or contact our Florida Detective Agency for information on our liability claim investigations, personal injury investigation and private detective services in your local area.
Insurance Claims Investigator – Florida Claims Investigator - Florida Private Investigator – Insurance Fraud Investigation – Insurance Defense Attorneys - Casualty Claims Surveillance – Injury Surveillance for physical injuries
Contact our security & detective agency with questions on how to hire a private investigator or hire a security guard at Online PI.
Call Us Now 24 Hrs. for Assistance!
1(800) 743-2313
NATIONWIDE SECURITY SERVICES , BODY GUARD SERVICES & PRIVATE DETECTIVE SERVICES!
We have National and Worldwide Affiliate Licensed Security Guards , Body Guards and Private Investigators to service your area.