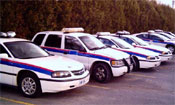 RESIDENTIAL SECURITY GUARD SERVICES

Security guard Company for Residential security, uniformed guards, patrol officers and more.

Guard Companies like ours can protect your family, home or property from Crime with our residential Security Guard Services and patrol officers.
Did you know few home owners are at home les and less every day due to their employment requirements or lifestyle? Sometimes, a home or private residence can be left unattended for days, weeks or longer without security.

If this sounds like you, our security guard company has residential security, CCTV surveillance and housewatch services customized for everyone. It's an onsite complete residential security program that includes residential patrol services, residential alarm response services, property inspections, estate protection, Key-Holding, Emergency response, access control, Scheduled Let-ins, gatehouse security, and interior or Exterior Patrols. Remote CCTV surveillance can also be implemented to allow you to monitor your home or community via the internet. Our private protection company will ensure your home and family will receive professional security or mobile patrolling on a temporary or a permanent basis.

It is proven that most home burglaries occur during the day time while home owners are out at work or busy with their day to day errands. It is also estimated that a home burglary is reported every 18.6 seconds in the United States. Our Florida security guard company can protect your assets and property thus helps with residential security officers that prevent your residence from being another target. Our residential security service company delivers uniformed guards, unarmed, plainclothes, or armed security guard officers during a scheduled time or for a 24 hour period in efforts to secure a home, residence, condominium, apartment building, gated community or private property. Our guard service company provides security guard services, guard officers and patrol officers that patrol residential community and effectively deter vandalism, burglary, trespassing and theft.

RESIDENTIAL GUARD SERVICES
Our Miami security company provides an array of residential community security services like no other guard companies can... Including:
Uniformed security guard officers, unarmed security guards, armed security, alarm response, patrolling, gatehouse security, home security cameras, CCTV systems, surveillance camera, remote surveillance, vehicle patrol, access control, plain clothes officers and more at affordable rates for your home, condominium, apartment building or community. Do not put your home, condo or residence at risk by hiring other Florida security guard companies with no experience. When it comes to home or residential safety, our licensed security guard company is second to none. That is why online is the top ten security companies in Florida. We serve the entire south Florida area including Miami Dade County, Broward, Palm Beach, Martin County, Miami Beach and more with low rates.

Do you own or manage a residential community, gated community, apartment building or condominium? Then it is time to consider security guard officers or community patrol services today before it is too late. Your residential community, tenants and family should receive the safety and piece they expect. Our security agency has private security officers, safety guards and staff fully trained in home & residential protection services at affordable prices that other guard companies do not match.

With the increasing level of theft, vandalism, robbery, trespass, assault and other crimes, people no longer feel safe within the confines of their residential communities or homes. Our estate security service can provide armed or unarmed, uniformed, plainclothes security officers for effective protection of property and assets. Clients may also benefit from mobile patrol, vehicle patrols or golf cart patrol which is also used in combination to foot patrol thus securing all areas and deterring crimes.

Protect the things that mean the most to you. Contract our Miami security guard company today and hire professional protection services and uniform security guard officers for the safety & protection of your residence and family. Contact us today to receive a FREE on-site Security Service Consultation. Our agency may help with all your security guard service and CCTV security camera installation needs. Please call our Security Guard Company today for info on CCTV security products or installing home security systems. We are the expert provider in the protection of residential subdivisions, condos, vacation properties, apartment complexes, construction sites and hi-rise condominium properties, executive buildings, hotel and commercial businesses.

Our security guards officers will help protect property, ensure safety, enforce regulations and issue warnings for violations. Our agency will help reduce os liability with our protective service by reporting safety-related issues.

Standard Residential Guard Duties include:
Patrol buildings, perform routine maintenance inspections, respond to resident concerns, check doors, gates, windows, locks, fences, alarm system, lights, hallway, parking lot, and fire equipment. Additionally, residential guard service duties include, property and building access control, log in visitors, gate house access control, check common areas such as pool area, gym, laundry rooms and clubhouse, enforce parking rules, lock and unlock common areas & other secured facilities, perimeter patrolling, visitor identification, CCTV security monitoring, alarm response, install or monitor security cameras and more.

Our security agency services the entire South Florida Area - encompassing the cities & counties of: Among other cities, our investigative service company – Online PI provides investigation services in Miami Dade County, Broward County, Palm Beach County, Aventura , Bal Harbour , Bal Harbor, Boca Raton , Boynton Beach , Coconut Creek , Coconut Grove , Cooper city , Coral Gables , Coral Springs , Cutler Bay, Cutler Ridge , Dania, Davie , Deerfield Beach , Doral, Fort Lauderdale , Fort Myers , Fort Pierce , Hallandale Beach , Hialeah, Hialeah Gardens, Hollywood Florida, Homestead , Kendall , Key Biscayne , Key Largo , Key West , Lake Worth , Lauderdale-by-the-Sea , Lauderhill , LeHigh Acres, Margate , Medley, Miami Beach , Miami Gardens, Miami Lakes , Miami Springs , Miramar , North Bay Village , Parkland Fl, North Miami Beach , North Palm Beach , Opa Locka , South Florida , West Palm Beach , Pembroke Pines , Perrine , Pinecrest, Port Saint Lucie, South Miami , Miami Design District, Wynwood, South Beach , Sunny Isles Beach , Surfside , Weston, Wilton Manors, Tamarac, Florida City. Call today and find Florida Investigators or detectives to search for Background History, criminal histories, Prior criminal histories and other Due Diligence Investigation Services, missing person's investigations or free record searches in your state or local area.

OnlinePI.com and our Miami Security Agency also provides Security Guard Officers, Residential Security guards, private security , professional protection services & patrol service in Pompano ,Lighthouse point, Cape Coral, Carol City, Clearwater, Clermont, Clewiston, Delray Beach, Goulds, Green acres Hobe Sound Islamorada Jacksonville Florida Jupiter Kissimmee Lakeland Lantana Lauderdale Lakes Leisure City Marathon Key Marco Island Naples North Fort Myers. Hire Investigator or security guard services in Palm Beach Gardens, North Lauderdale Sarasota Oakland Park Orlando Palm Bay Tallahassee Pompano Beach Sunrise, Plantation Southwest Ranches, Parkland and Tampa Fl.

Contract security guards online. Our security guard and patrol company also offers home patrol service, residential patrolling, commercial patrol services through our affiliate security guard companies in Florida, Puerto Rico, New York, Los Angeles, California, Dominica, St. John, St. Thomas, St. Croix, Antigua, Anguilla, Aruba, Jamaica, Nicaragua, Honduras, Guatemala, Costa Rica, Venezuela, Panama, Belize and Mexico D.F

Other Cities, States & counties our uniformed and provide residential Guard Services – patrol homes, patrol residential communities, gatehouses, apartment buildings, warehouse facilities and other properties in Florida, Miami Dade County, Broward County, Palm Beach County, Fort Lauderdale , West Palm Beach , NJ, New Jersey, New Mexico, New York, NY, NYC, New York City, Chicago, Indiana, Indianapolis, Iowa, Kansas, Kentucky, Louisiana, Maine, Maryland, Massachusetts, NC, North Carolina, OH, OK, Oklahoma, Oregon, Pennsylvania, Pittsburgh, Rhode Island, Arizona, Phoenix, Arkansas, California, LA, Los Angeles, San Diego, San Francisco, Colorado, Connecticut , Delaware, Washington DC, Florida, Daytona Beach, Jacksonville, Miami, Orlando, Tampa, Georgia , Idaho, Illinois, Boston, Michigan, Detroit, Minnesota, Missouri, Nebraska, NV, Nevada, NH, New Hampshire, South Carolina, Tennessee, Texas, Austin, Dallas, Houston, San Antonio, Utah, Vermont, Virginia, Washington, Wisconsin , US United States and nationwide. Review our security guard website or contact our Florida security guard Agency for information on our guard company's uniformed officers, armed or unarmed officers, personal protection and more from our local security company in your area.
Hire our firm for residential security service today.
Contact a security consultant now for an evaluation.
Hire our Florida Guard company by calling us
Toll Free at:(800) 743-2314 or 305-264-7878


Contact our security & detective agency with questions on how to hire a private investigator or hire a security guard at Online PI.
Call Us Now 24 Hrs. for Assistance!
1(800) 743-2313
NATIONWIDE SECURITY SERVICES , BODY GUARD SERVICES & PRIVATE DETECTIVE SERVICES!
We have National and Worldwide Affiliate Licensed Security Guards , Body Guards and Private Investigators to service your area.